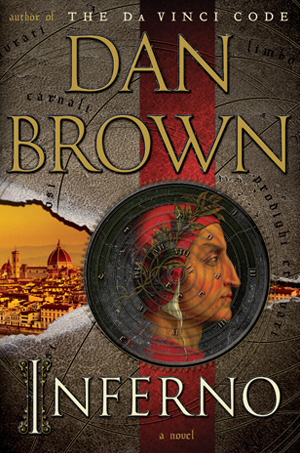 Title
: Inferno
Author
: Dan Brown
Series
: Robert Langdon #4
Read
: July 15, 2014
Summary
: In his international blockbusters The Da Vinci Code, Angels & Demons, and The Lost Symbol, Dan Brown masterfully fused history, art, codes, and symbols. In this riveting new thriller, Brown returns to his element and has crafted his highest-stakes novel to date.
In the heart of Italy, Harvard professor of symbology Robert Langdon is drawn into a harrowing world centered on one of history's most enduring and mysterious literary masterpieces . . . Dante's Inferno.
Against this backdrop, Langdon battles a chilling adversary and grapples with an ingenious riddle that pulls him into a landscape of classic art, secret passageways, and futuristic science. Drawing from Dante's dark epic poem, Langdon races to find answers and decide whom to trust . . . before the world is irrevocably altered.
goodreads
Review: I feel like people either really enjoy Brown or they love to hate him. Personally, I fall in the former category. I think I've read all of this books at this point and I've enjoyed the Robert Langdon series. My favorite part of his books is that the conspiracy have a sense of reality to them. Yes, it's a far stretch most of the time, but his information that backs up these crazy stories is legit and it makes it seem like it may possibly happen someday, maybe. (Ok, I know it won't but I like that it could.)
This book just like the Da Vinci Code is set in Italy but this time, we visit my beloved Florence. I have to say, the reason I enjoyed this book so much was because of the setting. I studied abroad in college and after my program was over, my mom, a friend, and I spent a week in Florence/Tuscany and I absolutely fell in love. I enjoyed being able to remember what the various landmarks actually looked like and it helped me imagine the events more vividly. Always a plus!
I also enjoyed that Langdon was a little out of his element in this book after catching a case of amnesia. One of the possible annoying things about Langdon is that he knows everything about everything. I'm sure at times, this can be very cool, but there are also times where it's just enough already. So the fact that there was a huge space of time that he couldn't account for really got to him and made him a little more human rather than the all-knowing historian.
Overall, this book moved quickly and was filled with some great history, art, and conspiracies. If you are a Brown fan, you'll enjoy it. If not, stay away. Duh. But if you've never read Brown, while I wouldn't suggest starting here, if you did, you might find yourself hooked.