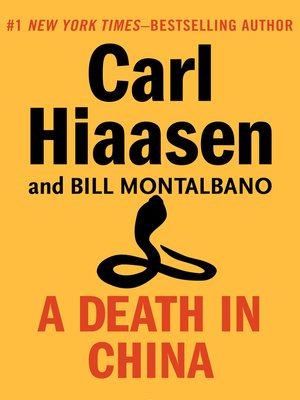 Title
: A Death in China
Author
: Carl Hiaasen, William D. Montalbano
Date Read
: September 23, 2013
Series
: Black Lizard #3
Summary
:
An American investigating his mentor's murder finds himself ensnared in a web of lies and treachery in China, where even tomorrow's weather is a state secret. From a nightmarish interrogation to assassination by cobra, A Death in China takes readers on a trip with no rest stops through a world of claustrophobic mistrust and terrifying danger.

goodreads
Review: This book was originally published in 1984, so it is really old school Hiaasen. My uncle passed this along to me in a huge stack of books containing various genres and authors. He finds gems now and then so I'm giving all of them a try. I knew nothing about this book other than good ole Carl wrote it, which is enough for me. (Sidenote: it turns out, this is book three in a series but I was unaware of that until I just looked the summary up on goodreads. That should tell you that this book easily stands alone.) Usually, I'm a huge Carl Hiaasen fan and I can tell his writing apart from different authors. The scenes tend to be set in FL, there is a lot of humor and wit in the writing, and there is some sort of crime solving going on. This book was set in China with zero humor. Should have known something was fishy from the start and I blame that Montalbano fellow.
Overall, I was unimpressed with this book. It was just ok. The plot and writing were adequate but I didn't really care what happened to any of the characters other than David Wang. There were no usual Hiaasen-isms that I was looking forward to which was a big disappointment, but I'm going to chalk that up to the use of a co-author and his lack of writing maturity in 1984. I knew very little about Chinese politics coming into this book and it was very interesting to see them through the eyes of an American, various Chinese, and some Americans who work at the embassy in Peking. Other than that, I don't have a lot to say. I wasn't necessarily bored with this book but it was definitely not a page turner. Just ok.