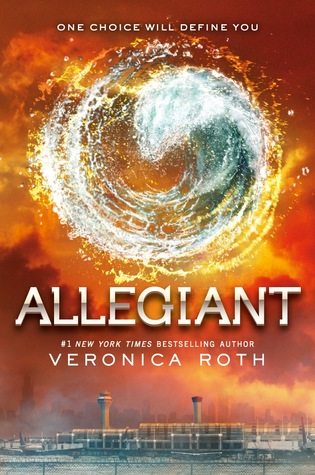 Title
: Allegiant
Author
: Veronica Rother
Series
: Divergent #3
Read
: May 13, 2014
Summary
: The faction-based society that Tris Prior once believed in is shattered—fractured by violence and power struggles and scarred by loss and betrayal. So when offered a chance to explore the world past the limits she's known, Tris is ready. Perhaps beyond the fence, she and Tobias will find a simple new life together, free from complicated lies, tangled loyalties, and painful memories.
But Tris's new reality is even more alarming than the one she left behind. Old discoveries are quickly rendered meaningless. Explosive new truths change the hearts of those she loves. And once again, Tris must battle to comprehend the complexities of human nature—and of herself—while facing impossible choices about courage, allegiance, sacrifice, and love.
Told from a riveting dual perspective, Allegiant, by #1 New York Times best-selling author Veronica Roth, brings the Divergent series to a powerful conclusion while revealing the secrets of the dystopian world that has captivated millions of readers in Divergent and Insurgent.
goodreads
Review
: This is the third book in the Divergent series and I have to admit, I had to read some recaps on
Shmoop
. It had been so long since I had read the first two that I actually went through chapter by chapter to jog my memory. It worked which was a good thing because this book leaves off exactly where Insurgent did with zero summary (which is one of my pet peeves of series. At least catch us old ladies up on what happened in the last one. We forget these things reading 100+ books a year!)
So I caught up and remembered how much I enjoyed Divergent and that Insurgent was ok. I was ready. And to be honest, I was a little disappointed. I hated the dual narratives and couldn't keep track of who was talking easily. It drove me bonkers. While I liked hearing about the background, the government, and the DNA aspect of this story, it was just that: background! It didn't really move the story along so much. But in the last 100 pages, this book was 100% redeemed for me! The 100 pages prior to that when Tris and Four were making the plan to turn the tables on everyone was stupid and hypocritical (still think that now) but some things happened that redeemed it for me. But of course in order to talk about these, I have to reveal spoilers. I try to stay away from spoilers but in this book, the only reason it got 3/5 was because of the spoilers. So--
SPOILER ALERT!!! GO HOME IF YOU DON'T WANT TO KNOW MORE!
Now that that is out of the way, here we go. Going into this book, I somehow managed to avoid all of the spoilers. I was super stoked this book was coming out and didn't have to read everything about the release so that probably helped me avoid most of it. I knew people hated the ending but for me, it was the best part.
One of my pet peeves about the last two books has been how stupid, careless, reckless, and dangerous Tris has been with minimal consequences. Yes, I understand these are dauntless traits but no one is that lucky and it became annoyingly redundant. Not to mention the fact that she annoyed me during this whole book so when she died, I thought "finally!" for various reasons. Don't get me wrong, I LOVED Tris in the first book. She was a strong female protagonist who experienced real love and none of that insta-love crap. She was my girl! But that faded over Insurgent and was completely absent this book.
Her death also explained the dual narratives that I hated. It forced Four to grow on his own and stop leaning on her so much and it healed things between her brother and her. Honestly, she was never going to let Caleb do it and we all know she thought she was the only bad ass who would be immune to the scarey "death serum." The more I think about it, the more I think this was the only possible ending. No one gets a perfect happy ending in a dystopian society, props to you Roth for having the balls to kill Tris. Thank you!