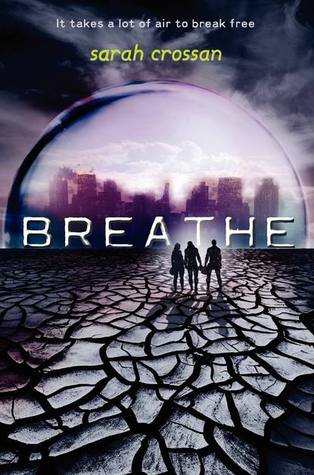 Title
: Breathe
Author
: Sarah Crossan
Series
: Breathe #1
Read
: May 3, 2014
Summary
: The world has no air. If you want to survive, you pay to breathe. But what if you can't? And what if you think everything could be different? Three teens will leave everything they know behind in Sarah Crossan's gripping and original dystopian teen novel of danger, longing, and glimmering hope that will appeal to fans of Patrick Ness and Veronica Roth.
National Book Award Finalist Kathleen Duey called Breathe "An amazing story! Sit down. Inhale. Now, while you still can." Ever since the Switch, when the oxygen levels plummeted and most of humanity died, the survivors have been protected in glass domes full of manufactured air. Protected . . . or trapped? Or controlled? Alina's a revolutionary who believes we can save the environment. Quinn's a Premium who's never had to worry about having enough air. His best friend, Bea, is an Auxiliary who's never worried about anything but having enough air. When the three cross paths, they will change everything. Sarah Crossan's thrilling and provocative novel is about passion, about yearning for something better, and about breaking free for the very first time. The Bulletin of the Center for Children's Books proclaims it an "action-packed dystopian series opener to watch out for."
goodreads
Review
: I was pleasantly surprised by this book. I think the dystopian young adult books are all the rage now and it's hard to find some that really get me caught up in their world but this one did. The first thing that caught my attention was the three main characters. Yes, there is initially the love triangle which drives me crazy but it fades out pretty quickly. But when you get down to it, the three main characters, Bea, Quinn, and Alina, are so different that they each give their own perspective of the exact same world. This helps the reader understand what it is like to be in each social circle as well as the difference between the informed and the ignorant. This was very well done.
Next, I enjoyed the ways Crossan developed the world because I could see a disaster like this actually happening. The reason there is no more oxygen is because they cut all the trees down to make space for farming to feed the booming population. Yes, this is extreme but if we don't treasure some of our natural resources, we could use them all up and not be able to replenish them. The reminder of this makes this story a little more scary. It was also well created without being too "tree-hugger" for my tastes.
The reader also gets to see each character grow and become less disillusioned with the world that they thought they knew. All three of them had this perceived notion of why the world was the way it was and while they were all very different notions, the characters learned that parts of them were right but parts were very off-base. This allowed the characters to grow and the reader to connect with them. Initially, I really didn't like the characters as people that much but as they were developed throughout the story, they really started to grow on me.
I know this is the first book in the series and I look forward to continuing it. The difference between this book and the Chosen Ones (
my review
) is that Sarah Crossan was able to achieve all of these things in her first book which could be a stand alone if it needed to be. It didn't just provide initial information and then end while trying to hook you into the next one. While I don't think this book is the next big thing and it's one of my favorites, it caught my attention and kept me entertained thoroughly. I will definitely be following this series!