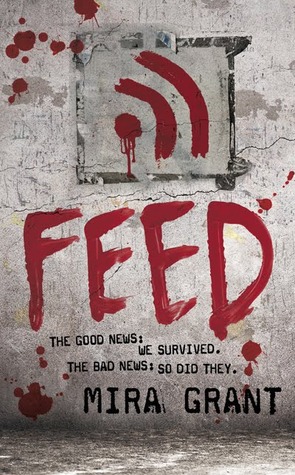 Title
: Feed
Author
: Mira Grant
Read
: June 24, 2014
Series
: Newsflesh #1
Summary
: The year was 2014. We had cured cancer. We had beaten the common cold. But in doing so we created something new, something terrible that no one could stop.
The infection spread, virus blocks taking over bodies and minds with one, unstoppable command: FEED. Now, twenty years after the Rising, bloggers Georgia and Shaun Mason are on the trail of the biggest story of their lives - the dark conspiracy behind the infected.
The truth will get out, even if it kills them.
goodreads
Review
: First things first,
I'm the realest
yes, this is a zombie book but it is also sooooooo much more! I'm sure I'm one of the last book bloggers on the planet to read this book (and review it) so I'm sure you've heard this all before. I knew this book would be good but I didn't expect to enjoy it as much as I did because I'm not a huge zombie person. Yes, I got into Walking Dead with the rest of the world but I don't really watch anymore because it became redundant and I didn't care. It's hard to follow a story if the whole plot is trying to survive the zombie apocalypse. I'm not interested in that. I need more. And Grant, gave me way more!
So, where do we start? Characters, my fav! We follow George (aka Georgia), her brother Shaun, and their bestie Buffy, who are all bloggers, onto the presidential campaign trail. Already we have news, blogging, and politics in a world overrun with zombies. This is SO not a "zombie book." Shaun and George are not biological siblings but they are as close and loyal to each other as most twins are. The relationship is real and emotional and unbreakable. Buffy is their friend who helps them run their blog and she's a techie with the best of the best hardware. Together, along with other members of their team, they provide the world with a glimpse of a presidential campaign from the inside. And all the while, zombies are a threat.
I enjoyed all of the characters, even the bad ones, and I think one of my favorite parts of this story was that romance was not the main component. It's hard to find a strong, female, lead character (under the age of 50) whose whole world doesn't revolve around boys. Why the hell is that?!?!?! In real life, there are plenty of strong, females who lives do not revolve around romance. Actually, most intelligent, successful women fall into this category. Yes, the feel love and desire romance but it definitely isn't the end all be all of their life's happiness. This should be better represented in novels IMHO, but I digress.
As the story goes along, we experience death and loss (what do you expect? It's a "zombie book," not everyone is going to survive) and I'll admit I cried. But in addition to that, we discover a conspiracy! Politics and conspiracies go hand in hand so we shouldn't be surprised but the plot was well developed and drawn out and I was thoroughly entertained throughout.
Finally, we should address the zombies. They do play a role but people have learned to live with them after twenty years and they just have more security and find ways to live despite the ever present threat. Some people hunt zombies while others avoid them. Everyone has their own way of dealing. But I think the best part of this book was that while there were plenty of zombie scenes, they weren't overly graphic and sickening. I also thought the science behind the disease was interesting and makes sense. That always helps.
If you're looking for a pure zombie book, look elsewhere. If the idea of zombies is intriguing but you need a good plot line behind it, run to the nearest bookstore and pick this up, you won't be disappointed. And needless to say, I will be continuing the series.