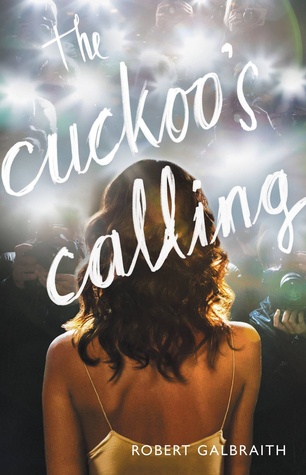 Title
: The Cuckoo's Calling
Author
: Robert Galbraith
Read
: May 28, 2014
Series
: Cormoran Strike #1
Summary
: A brilliant debut mystery in a classic vein: Detective Cormoran Strike investigates a supermodel's suicide.
After losing his leg to a land mine in Afghanistan, Cormoran Strike is barely scraping by as a private investigator. Strike is down to one client, and creditors are calling. He has also just broken up with his longtime girlfriend and is living in his office.
Then John Bristow walks through his door with an amazing story: His sister, the legendary supermodel Lula Landry, known to her friends as the Cuckoo, famously fell to her death a few months earlier. The police ruled it a suicide, but John refuses to believe that. The case plunges Strike into the world of multimillionaire beauties, rock-star boyfriends, and desperate designers, and it introduces him to every variety of pleasure, enticement, seduction, and delusion known to man.
You may think you know detectives, but you've never met one quite like Strike. You may think you know about the wealthy and famous, but you've never seen them under an investigation like this.
Introducing Cormoran Strike, this is the acclaimed first crime novel by J.K. Rowling, writing under the pseudonym Robert Galbraith.
goodreads
Review
: Well it looks like since the cat's out of the bag, the summary now exposes JK for writing under a pseudonym. I was so excited when I found out she had written another book but I can't imagine how devastated she was when her secret leaked (or was she? It could have also been an awesome publicity stunt.) That being said, I don't know if I would have picked up this book as soon as I did if JK hadn't been behind it. I love a good mystery but series like this aren't always at the top of my TBR lists and it probably would have fallen into my hands just by luck from my dad. Either way, I'm very glad I read it and was pleasantly surprised to find out the sequel comes out this summer!
So, let's get down to the nitty gritty. Honestly, I loved Strike. I think most people would because he is very enduring and Galbraith (you all know who I'm talking about!) does a great job of backing up his good personality with a deep back story which makes the reader love him even more. He's smart, knows what he is doing, has good morals, and has had his heart broken. He's not the perfect hero that most protagonists are and that's endearing. I also loved Robin. She is newly engaged and Galbraith does a great job of describing this period of time in a young lady's life. Being recently married (and obviously engaged prior to that) I related to her gushing which may have put others off. I thought it was sweet and set up her character well. As we get to know her better though, we find out that homegirl has a brain! Oh, a smart, independent, girl with initiative? Give me more! She fell into Strike's life via a temp agency but was caught up in the PI biz. Who wouldn't be?!?! But the best part about the characters was their platonic (for now, I assume) relationship with one another. They're both so fascinated with one another but too shy to express it so they are continuously walking on eggshells and alternately being pleasantly surprised by what the other has done. This dynamic creates a sweet, albeit awkward, relationship that you just root for. Yes, I would like for them to end up together eventually (later books in the series?) but I loved that that didn't happen in this one.
I also enjoyed the plot. I didn't guess who it was within the first 50 pages (even though I had my suspicious) and there were multiple possibilities of who-dun-it so even when I though I knew, I couldn't be sure. I think this is one of the best features of a mystery. I want to be constantly trying to figure it out and still be surprised in the end. The evidence for why the person did what they did made sense and wasn't filled with random events and facts that really didn't make sense.
As far as the writing goes, I did not swoon as I did with
Harry
but that's ok. I was entertained the entire time and the writing is still very well done. I was expecting something different from
Harry
as well as
A Casual Vacancy
and I was pleasantly surprised. Looking forward to the next one!